Meet Dr. Joseph Campisi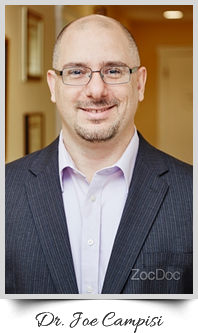 Growing up with asthma and living life with drugs, asthma attacks and allergic reactions, Dr. Joseph Campisi began care with his brother Dr. Carmen Campisi who had recently graduated from chiropractic college.
Dr. Joe received remarkable results and thereafter set his sights on becoming a chiropractor himself.
"It seemed like I was the only one of my friends who had a clear idea of what they wanted to do with their life. Even in high school I knew I would be a chiropractor."

 
Chiropractic Education
Dr. Campisi began his chiropractic education, with his pre-chiropractic requirements at St. Johns University in Queens, NY. There he studied basic pre-professional courses with an emphasis on the basic science courses such as inorganic chemistry, organic chemistry, biology, along with basic physiology and anatomy courses.
After completing his course of study there, he was accepted at Life College, School of Chiropractic in Marietta, Georgia. During his accelerated three and a half years of studies at Life, courses included biochemistry, a major emphasis on anatomy and physiology, x-ray, diagnosis, chiropractic adjusting techniques and patient care in the Life College Public Clinic.
Continuing Education
"Several times a year" continues Dr. Campisi, "the staff and I attend various seminars to keep up with the latest research and newest developments in the chiropractic profession. That keeps our skills in top form."
Dr. Campisi is a founding member and current president of the Charles Park Conservation Society, a non-profit group dedicated to the restoration and beautification of Frank M. Charles Memorial Park.
Dr. Campisi has helped thousands of Ozone Park and South Ozone Park area residents regain their health since opening his office in 1994. "Our goal is to provide the highest quality care in a pleasant and friendly environment".
I look forward to serving you!
"Thanks for visiting our site. I look forward to meeting you in person and learning how we may be of service to you. Give our S. Ozone Park chiropractic office a call, or email me using the link below and let's arrange a time to explore your options."